Meet the Happy Dog Yoga Studios Team
All of our instructors have met the training and teaching experience requirements under one or more of the following Yoga Alliance designations.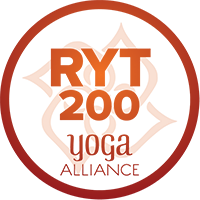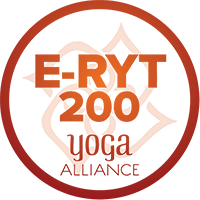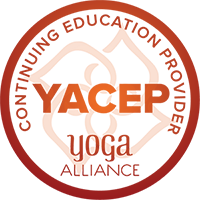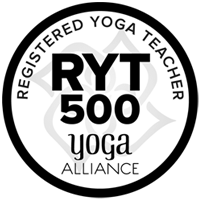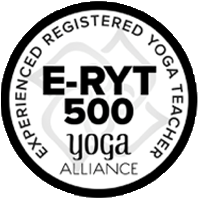 ---
Emilee Hartwig
E-RYT500 & Thai Yoga Therapist, Studio Owner
Hi! I'm Emilee! I purchased the yoga studios in November 2019. I've been practicing yoga since 2011 and earned my 200-hour training in 2016. I followed my yoga training with Thai Massage training in 2017. In November 2018, I taught my 1,000th yoga class and became an E-RYT200 (experienced registered yoga teacher). I have heard people say "It isn't work if you love what you do" but I never believed that until I started teaching yoga. I LOVE what I do! In every yoga class I teach, my goal is to challenge the student both mentally and physically by encouraging them to reach for their limits, grow and learn from these limits, and gain a whole new appreciation for their bodies. You will find my classes are built around creative flows and a few jokes to keep it fun!
---
Rhonda Jones
ERYT200
Hi, thank you for stopping by our Team Page! Here is a little bit about myself. After earning my Bachelors Degree in Business Administration, raising a family, and building a successful 27-year career in the corporate world, I decided it was the right time in my life to help bring a dedicated Yoga Studio to our area. I earned my RYT200 and Happy Dog Yoga Studio (named after our dog Morgan) was born in February 2015. As the studios and our community have grown, I have witnessed the transformation yoga can provide for so many that are searching for a holistic way to balance their physical and mental health. Through mindful movement and breath you can find peace amidst the chaos of life. Furthering my education feeds my passion for this practice and I will complete my RYT500 Therapeutic Specialist training with Yoga Medicine in 2020. Their 500hr advanced training focuses on a deeper understanding of western anatomy & physiology and its application to the traditional yoga philosophy. I have completed modules focused on: Restorative yoga and the nervous system (60 hours), Shoulder anatomy, dysfunction and application (60 hours), Yoga anatomy (20 hours), Spine anatomy, dysfunction, & application (60 hours), Mental Health & Wellness (55 hours), and Hip anatomy, dysfunction and application (55 hours/Dec 2020). I also hold certifications in RAD Yoga (self myofascial release). In the summer months, I manage our sister company Happy Dog Paddlesports and spend my time on the water leading Sunrise Paddle Tours and teaching standup paddle board (SUP) yoga as an American Canoe Association (ACA) Level II SUP & Coastal Kayak instructor.
---
Marleigh Jones
RYT200 & Thai Yoga Therapist
Hi friends! For the first 18 years of my life soccer lit my fire. I had a passion for the game. Soccer was my home and my team was my family. As I aged out of youth soccer, I began my search for something that would replace those feelings the sport gave me. Much to my displeasure, I also quickly realized that I needed to find a new fitness routine. After years of under-used gym memberships, I was introduced to yoga as a way to stay fit, and welcomed with a warm embrace. I have been practicing ever since. Yoga has become my new home. It cares for my mind, body, and soul. Yoga brings a sense of peace and clarity to my often hectic life and it connects me to a tribe of generous and devoted yogis who keep me grounded. They are like family. I decided to get my 200 RYT in order to spread the love I have been shown through my practice. I look forward to sharing it with you. Much metta!
---
Alyssa Sullivan
RYT200
Yoga and I were introduced by divine intervention when I was in college at Central Michigan University in 2013. This was a very challenging time in my life and Yoga became my saving grace. Simply put, practicing yoga makes me feel good and nourishes my mind, body and spirit. This good feeling has reverberated through every aspect of my life. No matter how often I step onto my mat, Yoga always welcomes me like an old friend. Never judging, no expectations, and is a compassionate and quiet reminder that I'm worthy. Yoga has provided me with so many benefits; a remedy for mental challenges such as chronic anxiety, panic attacks, and depression. I gained spiritual healing from negativity, numbness and self-doubt. And physical benefits like relief from lower back pain, migraines, and obesity. I believe in the power of Yoga and this past Fall 2017 I completed my RYT 200 teacher training through Updog Yoga in Rochester! I'm excited to share my knowledge and love for Yoga with you all and continue to grow our Yoga practice and our community!
Om Shanti
---
Alice Erickson
RYT200
Currently I teach chair yoga where I help students focus on alignment, balance and restoration. Vinyasa is one of my favorites, and I find yoga to be an empowering escape, bringing balance to both mind and body. I was first introduced to Yoga while at university and shortly after found myself a certified yogi from White Lotus Yoga and Healing (Romeo, Mi). Please join us in a class and feel free to reach out with any questions.
---
Tammy Ward
LMT & RYT200
I started my healing career as a licensed, Thai certified massage therapist in 2001. After years of practice and expertise under my belt, I decided to become certified in the teaching of Restorative Yoga in 2014. In 2017, I completed the RYT 200-hour yoga training program. I also received certification in teaching of Yin Yoga in 2018. Relaxation Yoga is my specialty, as it is an important step in keeping not only the mind quiet, but the body open and healed. My classes include healing essential oils, beautiful music, and a massage tailored to the needs of the body, all to relax each student in every single class.
---
Kristyn Weeks
RYT200
Hello Yoginis! I have been practicing yoga since 2009. Last year after recent health scares with both my parents and trying to overcome physical challenges of my own I surrendered myself to Yoga. I was able to overcome those challenges and I found serenity, peace and healing on and off the mat.
Feeling the need for a shift and new focus after retiring from teaching, I decided to take a Yoga Teacher Training course at Bodhi Seed Yoga in Mount Clemens training in Ashtanga. The experience was transforming! Both inside and out.
Since getting certified in June I have been subbing at Happy Dog and teaching out in Sedona, Arizona at Divine Grace Ashram. I have been putting together creative flows that I can't wait to practice with you. I also love to mix things up with different pranayama techniques, inspirational quotes, and themes to open the mind and the heart. 🖤
---
Alma Aletić-Konjevod
RYT200
I started regular yoga practice relatively late in life, and it quite literally changed my life for the better. I only took teacher training because I wanted to learn more, know more - however, I soon realized that I wanted to bring this gift to everyone I can. Having a Master's Degree in music and teaching music classes and lessons all my life, made it an easy transition.
I enjoy teaching different types of classes, and I usually have a specific theme or a goal in mind. It is my belief that it is equally important to do something challenging, and take the time to nurture your body. Our lives are so busy that we rarely take a moment to quiet down.
Yoga, just like music, is for everyone. And I mean absolutely everyone. We challenge our bodies; we challenge our minds - to achieve that perfect unity. The point is not to be able to fold so far that we can kiss our toes, or tie ourselves in a pretzel; it is to take the body to its own edge, to take control of the mind. That takes time. Sometimes the hardest thing to do is to honor our body, to accept that it has some limitations. The best thing you can do for yourself - is to just keep coming back to your mat.
---
Nikki Szymkowski
LMT & Reiki Healer/Level II
Mid 2017 I received my first massage to see what massage and hot stones were all about. That was my turning point in changing my career to help others with sciatica, arthritis, sleep and over all pain relief. In 2018/2019 I attended Lakewood School of Therapeutic Massage in Port Huron and graduated in June 2019 with 850 hours. My certificates include: Hot Stone, Bamboo Bliss Massage, Aromatherapy, Reflexology, Lymphatic Drainage, Deep Tissue, Scar-Tissue Release, Pre-natal, Cranial Sacral and learned outside of school Reiki, Cupping Therapy and Percussion. I love helping others either relax (Swedish massage), relieve stress, sleep better and feel good and I can perform light to deep pressure as needed. I am available for 30 minute area specific, 60, 75 and 90 minute massages and also in home visits within 10 miles of the studio. I look forward to helping others through massage.
---
Dayna Vasbinder
RYT-200
I was training for a half marathon and was worried about how my body felt after my last half. I saw an advertisement for beach yoga and thought why not try this after my long training runs. Yoga transformed by training and my recovery. I noticed my legs felt better before and after runs, my breathing was relaxed not labored and I felt like I had more endurance. I started attending yoga classes as often as I could, and I realized it wasn't just my body transforming it was also my mind. I hold a Master's degree in Counseling and I have been serving the community in the Human Service field for over 20 years. I became a yoga instructor to share yoga and bridge the gap between yoga and mental health.
---
Jacqueline Neisz
RYT-200
Yoga entered my life when I was 21 years old, not only was I a new mom, but a new nurse as well. I found myself struggling with new onset anxiety and depression for the very first time in my life.
I will never forget when I took my first yoga class, the feeling I felt during and after the class is something I still struggle to describe to this day. I was absolutely hooked from that moment on! Yoga healed me, yoga saved me. To me, Yoga is more than just a class at a studio, it is a way of life. I am beyond honored to be able to spread the knowledge of this beautiful practice with my community. Looking forward to guiding you :)
---
Meagan Kavanagh
RYT-200
Hello fellow yogis! I'd like to introduce myself for those who don't know me, I'm Meagan Kavanagh. My yoga journey started about four years ago after I had my third child and I was looking for something less stressful on my body. Enter yoga and I haven't looked back. I have just recently graduated from the Ground and Center Yoga group and I'm looking forward to sharing my appreciation and love for this practice with my students. I enjoy creating fun and engaging classes and I love to throw in some creative movements and poses for my students to experience and play with. I look forward to seeing new and known faces in my classes. Namaste.
---
Vicki Dobberowsky
RYT-200
I have been practicing yoga since 2015. Yoga came into my life at a time when I was searching for something unconsciously. I have a great job, a wonderful husband and family, but there was something missing. I needed something that was just for me, and I found it in yoga. My practice started through a work friend who was a yoga instructor and she wanted to give back, so she started to teach yoga to a few of us after work once a week. It really stuck, I was in love!
Soon after I started practicing, I was searching to see if there was a yoga studio nearby, and to my surprise and great joy, Happy Dog Yoga Studio had just opened in Port Huron! I immediately started attending as many classes as I could manage. I really challenged myself to try as many different styles of classes and teachers as I could, falling in love with all of it, but especially the more mindful movements in slower styles of asana and meditation.
Wanting to learn more, I attended a variety of workshops offered at Happy Dog, including the RAD Yoga training in March 2019. After receiving my certification for RAD Yoga, I decided to really dive deeper into the yoga world, eventually deciding that teacher training was in the cards for me.
In 2019 I signed up for the 200 hour yoga teacher training program offered through Ground and Center Yoga, and received my RYT200 in May 2020. My practice continues to have a positive effect on every aspect of my life, mentally, physically and spiritually. I find I am happier, more relaxed and calm; I sleep better, and have had a mind-shift, moving away from limiting beliefs and becoming more positive in general.
In my classes, I hope that you will find time to take space for yourself and see what comes to light in your own journey.