Meet the Happy Dog Yoga Studios Team
All of our instructors have met the training and teaching experience requirements under one or more of the following Yoga Alliance designations.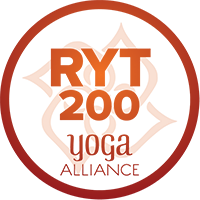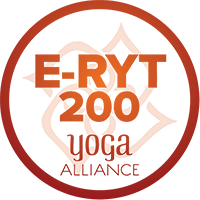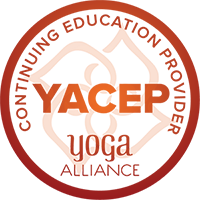 ---
Rhonda Jones
ERYT200, Studio Owner
Yoga has been a passion of mine for over 15 years. It brings a sense of calm and balance to my hectic lifestyle. After earning my Bachelors Degree in Business Administration, raising a family, and building a successful 26-year career in the corporate world, I decided it was the right time in my life to help bring a dedicated Yoga Studio to our area. I earned my RYT200 and Happy Dog Yoga Studio (named after our dog Morgan) was born in February 2015. As the studios and our community have grown, I have witnessed the transformation yoga can provide for so many that are searching for a holistic way to balance their physical and mental health. Through mindful movement and breath you can find peace amidst the chaos of life. Furthering my education feeds my passion for this practice which is why I am currently working towards my RYT500 Therapeutic Specialist with Yoga Medicine. Their 500hr advanced training focuses on a deeper understanding of western anatomy & physiology and its application to the traditional yoga philosophy. I have completed modules focused on: Restorative yoga and the nervous system (60 hours), Shoulder anatomy, dysfunction and application (60 hours), Yoga anatomy (20 hours), and Spine anatomy, dysfunction, & application ~July 2019~ (60 hours). I also hold certifications in RAD Yoga (self myofascial release). In the summer months, I spend my time on the water teaching standup paddle board (SUP) yoga as an American Canoe Association (ACA) Level II SUP & Coastal Kayak instructor. It is our goal that the studios are a safe and happy place for ALL to learn and practice Yoga. Please stop in and meet our caring, talented, certified instructors and practice with us for free your first week.
---
Emilee Hartwig
ERYT200 & Thai Yoga Therapist
Hi! I'm Emilee! I've been practicing yoga since 2011 and earned my 200-hour training in 2016. I followed my yoga training with Thai Massage training in 2017. In November 2018, I taught my 1,000th yoga class and became an E-RYT200 (experienced registered yoga teacher). I have heard people say "It isn't work if you love what you do" but I never believed that until I started teaching yoga. I LOVE what I do! In every yoga class I teach, my goal is to challenge the student both mentally and physically by encouraging them to reach for their limits, grow and learn from these limits, and gain a whole new appreciation for their bodies. You will find my classes are built around creative flows and a few jokes to keep it fun!
---
Marleigh Jones
RYT200 & Thai Yoga Therapist
Hi friends! For the first 18 years of my life soccer lit my fire. I had a passion for the game. Soccer was my home and my team was my family. As I aged out of youth soccer, I began my search for something that would replace those feelings the sport gave me. Much to my displeasure, I also quickly realized that I needed to find a new fitness routine. After years of under-used gym memberships, I was introduced to yoga as a way to stay fit, and welcomed with a warm embrace. I have been practicing ever since. Yoga has become my new home. It cares for my mind, body, and soul. Yoga brings a sense of peace and clarity to my often hectic life and it connects me to a tribe of generous and devoted yogis who keep me grounded. They are like family. I decided to get my 200 RYT in order to spread the love I have been shown through my practice. I look forward to sharing it with you. Much metta!
---
Paul Barr
ERYT200, Reiki II Practitioner
I am compassionate and sensitive to the needs of special populations. I focus on working with victims of trauma and with people who have drug addiction issues. I have found that yoga, mediation & reiki has provided much help too people in their recovery. I am a survivor of trauma and have battled depression most of my life. Through yoga, meditation & overall physical fitness, my recovery is substantially complete. I want to help others discover that there are more holistic & natural ways for them to feel better in their mind, body & heart. I completed my Reiki I and II training in November 2018, and plan to complete my Reiki Master Training in 2019. I am also a Certified Personal Trainer & Certified Nutritionist.
---
Anthony Reinke
RYT200 & Natural Health Educator
Late 2017, I finished the Natural Health Educator program at the Naturopathic Institute of Therapies and Education in Mount Pleasant, MI. This training gave me knowledge on natural health, which includes the study of the human body, herbology, essential oils, and flower remedies. Along with this certification, I can practice iridology, reflexology, and some forms of bodywork. In the early days of 2018, I received my RYT200 at Up Dog in Rochester, MI. My teaching style is very relaxed and gentle, with a strong focus on the power of breath. I believe when you focus on your breathing, you can allow your mind and soul to open up to welcome in peace, and this is when you are truly doing yoga. Namaste.
---
Tobi Couture
ERYT200
I am trained in Ashtanga and slow-flow styles and like to teach with a theme, focusing on linking breath to movement in an energetic flow. As in the Ashtanga tradition, I incorporate breath work, concentration, and meditation as well as the physical aspects of yoga. In my classes, I like to use mindfulness-based practices to help people feel comfortable in their bodies and in the present moment with compassionate awareness. Namaste!
---
Alyssa Sullivan
RYT200
Yoga and I were introduced by divine intervention when I was in college at Central Michigan University in 2013. This was a very challenging time in my life and Yoga became my saving grace. Simply put, practicing yoga makes me feel good and nourishes my mind, body and spirit. This good feeling has reverberated through every aspect of my life. No matter how often I step onto my mat, Yoga always welcomes me like an old friend. Never judging, no expectations, and is a compassionate and quiet reminder that I'm worthy. Yoga has provided me with so many benefits; a remedy for mental challenges such as chronic anxiety, panic attacks, and depression. I gained spiritual healing from negativity, numbness and self-doubt. And physical benefits like relief from lower back pain, migraines, and obesity. I believe in the power of Yoga and this past Fall 2017 I completed my RYT 200 teacher training through Updog Yoga in Rochester! I'm excited to share my knowledge and love for Yoga with you all and continue to grow our Yoga practice and our community!
Om Shanti
---
Kathleen McLain
RYT200
I came to yoga because I was experiencing some serious stress in my life. So much so that it started to take a physical toll. So I decided to take a physical approach to overcome it. That is how I found myself in my first yoga class. Since then I have been reaping the physical, mental and spiritual benefits that have made yoga a central part of my life.
---
Katie Morey
RYT200, Social Media/Event Coordinator
After completing a B.A. in Psychology, a M.A. in Industrial/Organizational Psychology, a year of a PhD program for Business Psychology and a number of years in corporate America, Katie accidentally discovered yoga in 2014 while searching for something to do outside of her corporate job. As soon as she realized yoga could help her find peace and balance outside of her day job, she was hooked. She immediately committed to her practice and enrolled in teacher training only a few short months after beginning her yoga journey. Katie completed her 200-hour teacher training in November 2016. In October of 2017 she started working towards her RYT500 Therapeutic Specialist through Yoga Medicine. As of April 2019 she has completed modules focused on: Restorative yoga and the nervous system (60 hours) • Yin and meditation (60 hours) • Shoulder anatomy, dysfunction and application (60 hours) • Yoga and Traditional Chinese Medicine (5 hours). She also holds certifications in Thai Yoga Massage and RAD Yoga (self myofascial release). Shaped by her background and training, Katie's teaching and practice are a blend of slower, focused movements that encourage slowing down and finding balance in the mind and body, on and off the mat. Her goal is to help her students live happier, healthier, and fuller lives through the use of movement, meditation, and breathwork.
---
Kristy Maxwell
LMT & Reiki Healer/Level I, Studio Manager
Early 2012 I received my first professional massage after the birth of my second baby. I had always dabbled in massage, working on friends, but after that day I went home and immediately signed up for classes. It was the best decision of my life! I attended Lakewood in Port Huron, graduating top of my class June 2013 with 820 hours. My certifications include Aromatherapy, Reflexology, Hot Stone, Carpal Tunnel, Table Shiatsu and Myofascial Release, as well as work in Swedish (relaxation), Deep Tissue, Lymphatic Drainage, Scar-Tissue Release, Pre-Natal(non-high risk) and Reiki. I feel very passionate about what I do as a massage therapist, and believe massage is an essential part of health and wellness. I truly strive to take the information my clients give me to help them reach their goals with massage. Find out how it can help you!
---
Alice Erickson
RYT200
Currently I teach chair yoga where I help students focus on alignment, balance and restoration. Vinyasa is one of my favorites, and I find yoga to be an empowering escape, bringing balance to both mind and body. I was first introduced to Yoga while at university and shortly after found myself a certified yogi from White Lotus Yoga and Healing (Romeo, Mi). Please join us in a class and feel free to reach out with any questions.
---
Marianne Moses-Hill
RYT200
I was introduced to yoga by a friend in 2001 and remember feeling so light and flexible after my first class; I was instantly hooked. I practiced on and off for many years thereafter, focusing mainly on the physical practice of yoga. It was only during my teacher training with Theresa May that I discovered how yoga is beneficial not only physically, but mentally as well. Throughout the course of the teacher training, I learned how to take the peace and calm that I feel on the mat and carry it with me each day.
Yoga has helped me find within myself more compassion, more understanding, discipline, mindfulness and contentment. It is an honor to have the opportunity to share the practice of yoga with others and it is my hope that I will be able to help my students experience both the physical and non-physical benefits of yoga.
---
Caileigh Barr
LMT
Hi, I'm Caileigh! I accidentally stumbled into this career and fell in love with every aspect of it. I attended Lakewood School of Therapeutic Massage, graduated June 2018. I specialize in relaxation and therapeutic massage, I also enjoy doing deep tissue and prenatal massage. Some of the things I like to incorporate into my massage are reflexology, aromatherapy, and myofacial release. My main focus as a massage therapist is to relieve pain and improving body wellness. I really enjoy working on clients with headaches and/or migraines to help relieve the pain for now and the later. Let's book an appointment.